Summer's in full swing and our newest Skiff short has entered the daily rotation. If you're looking to go beyond the default pairing of shorts and a t-shirt, here's a guide to other styles that compliment shorts quite well. Try a few this season and see how versatile a short can be. Enjoy!
Summer is all about comfort and looking effortless - even in a heatwave. Pairing shorts with an oversized short sleeve woven shirt will add polish without sacrificing comfort. Our Gil relaxed short sleeve shirt is made with a refined cotton from famed mill Thomas Mason™ and is slightly oversized to ensure enough breeze passes through. Layering a t-shirt under the shirt lends dimension while also allowing the option to ditch the woven shirt if temps rise.
This look easily pairs with a range of footwear including a beat-up pair of white vans or chucks. Want to take it to dinner? Alden loafers with no socks for the win.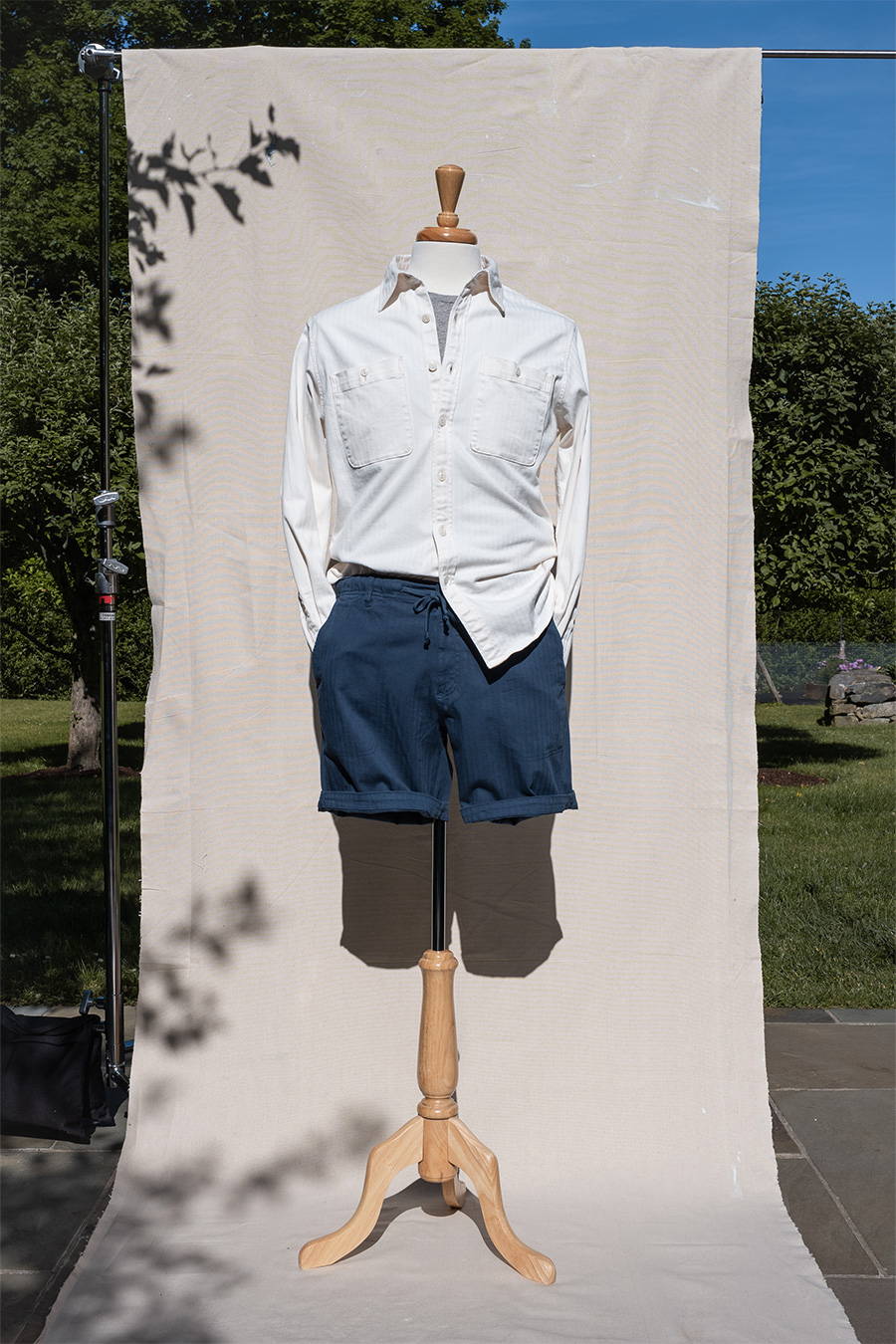 Daytime polished is what we're going for here. The Skiff short in Tarpon Blue paired with a woven shirt in a natural color (pictured is our Eaton Garment Dyed Herringbone Shirt). There's something about a chalk-y, natural, off-white woven shirt that evokes off-duty artist on a lunchtime stroll. Brunch with the in-laws? This look walks into any packed restaurant with ease. The layered t-shirt adds depth and will save you should your table lack an umbrella. Dealer's choice on the footwear, but any sockless loafer, espadrille, neutral Birkenstocks or clean white sneakers (Vans, Chucks, Commons, or Bensimons if you know) will do.
Ok, let's talk dinner. Can you wear shorts to dinner? Yes, depending on the shorts. The Skiff is the perfect balance between causal and refined. The casual comes from the elastic waistband and integrated drawcord. But they're refined too. The garment dyed Italian cotton in a subtle herringbone pattern with a 7.5" inseam makes for a smart fit in a beautiful fabric. Not baggy, not tight - just effortless. For your top half, bring in a darker woven shirt (pictured here with our Harrison Denim Shirt in Black). To finish off the look and ensure that you're at or exceeding the dinner dress code, add your nicest loafers. A suede Alden, leather Rubinaaci or Belgian, Stubbs & Wootton or a pair of Gucci deal slides with some patina will do it.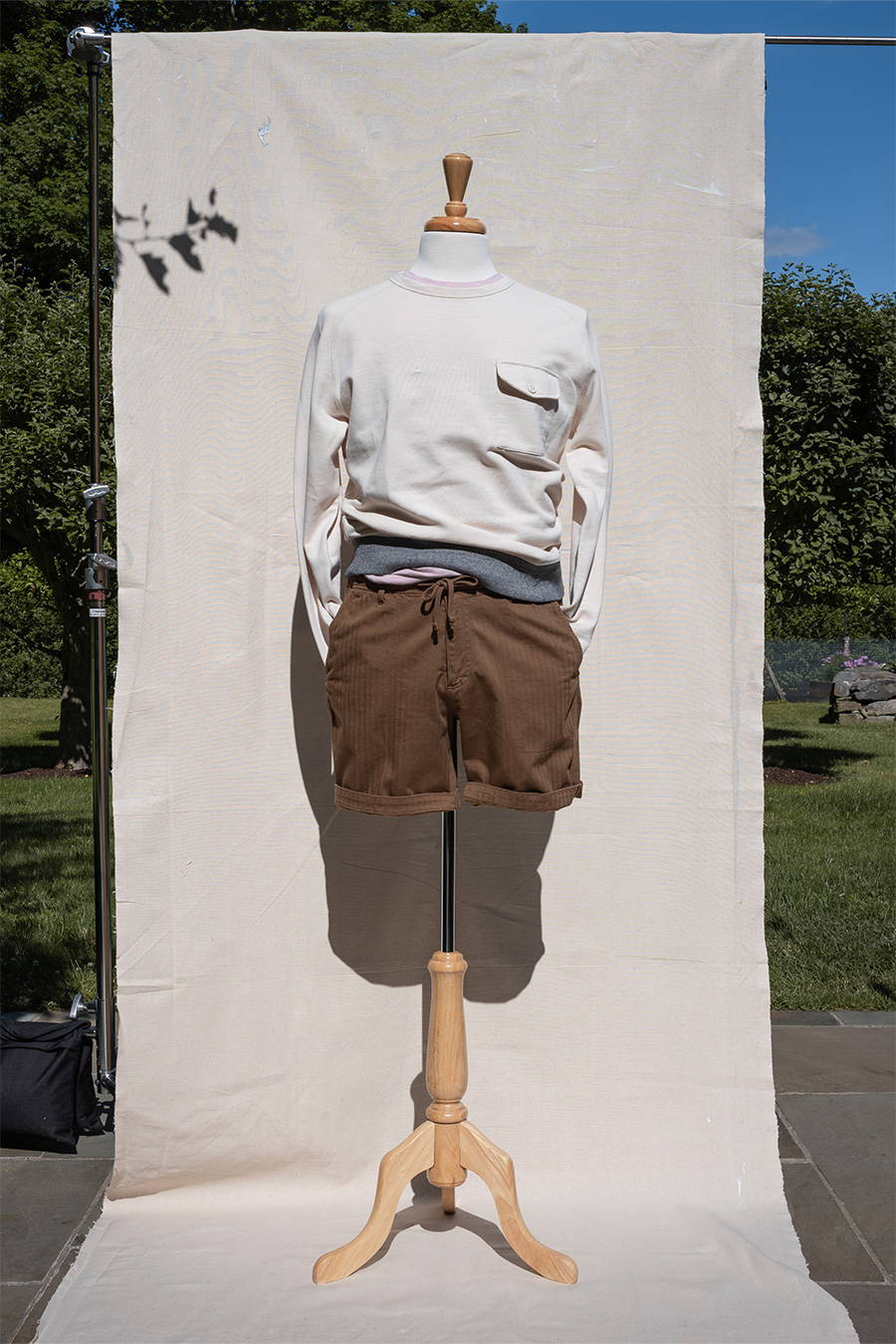 Summer is all about the sunsets. So how about a look that just came in from the beach to enjoy a backyard cocktail as the sun fades? We've got it. When the sun goes down, the chill comes out so pair our Skiff with a refined sweatshirt to keep cozy while still looking put together. Our Fields Cotton French Terry pocket sweatshirt has just the right amount of detail to elevate it beyond the ordinary sweatshirt. Contrast rib, chest pocket and luxurious cotton French terry all make for a functional yet stylish piece. Footwear? You just walked off the beach, you should be barefoot.
Time to stretch the short's versatility and bring in look #5. If you're looking for an outfit with a slightly more modern touch, go for a monochromatic look and pair our Tarpon Blue Skiff shorts with your favorite blue chambray or blue linen shirt. Tone on tone will instantly make the shorts look elevated and sophisticated. This is your go-to daytime stroll about town look. Easy & effortless all day long.
We started this guide saying that you could take short beyond the typical shorts & t-shirt combo, but it just looks so good. Here's our Skiff shorts paired with our legendary Slub t-shirt. The nice thing about a slub t-shirt is the slub adds a little texture. Combine that texture with the subtle herringbone pattern of the shorts and you have something that seems simple at first glance but is really a nice play on textures. We added a little flair with the bandana, but that's only if you're feeling special.